2018 LASER World of PHOTONICS
Time:2018.07.24 Source: Connet Laser Author:Connet Laser
A.

2018 SPIE•PHOTONICS WEST
Date: January 30 – February 1, 2018
Venue: The Moscone Center, San Francisco, California, USA
Booth#: 1507-L, South Hall
Connet will attend 2018 SPIE•PHOTONICS WEST with the optimized fiber lasers for LiDAR, like 3D scanning, range finding and ADAS. Customization is also available as per requests. Please come to our booth to have a talk with our engineers.
B.

2018 LASER WORLD OF PHOTONICS CHINA (SHANGHAI)
Date: March 14 – 16, 2018
Venue: The Shanghai New International Expo Centre (Shanghai, Pudong)
Booth: 3256, W3
LASER World of PHOTONICS CHINA is the largest professional laser exhibition in China and also is an international laser industry grand show. Connet will take their high-quality fiber lasers and fiber amplifiers to the show. Come and visit our booth to have further communications.
C.

APRIL 25-27, 2018 PACIFICO YOKOHAMA
2018 OPTICS & PHOTONICS International Exhibition
Date: April 25 – 27, 2018
Venue: Pacifico Yokohama (Yokohama, Japan)
Booth: I-5
Connet will be in Yokohama, Japan for LASER EXPO of 2018 OPTICS & PHOTONICS International Exhibition. Here to invite you to visit our booth to see the exhibited new products and have a talk with our engineers.
D.
NANO KOREA 2018
July 10-13, 2018, KINTEX KOREA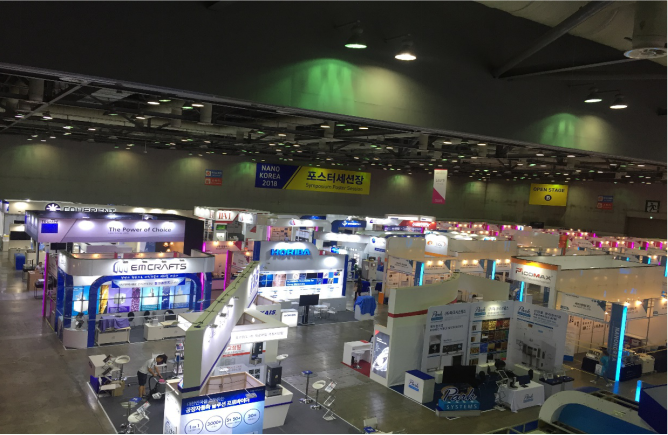 Date: July 11 – 13, 2018
Venue: KINTEX (Gaoyang, Korea)
Booth: O7, Hall 7
NANO KOREA 2018 is a comprehensive exhibition on nanotechnology focusing on innovation in science and industry. As a professional fiber laser solutions provider, Connet will be in the exhibition area of LASER KOREA 2018. Connet develops single-frequency fiber lasers and high-power fiber amplifiers from 0.5um to 2.0um, serving LIDAR, fiber optic sensing, laser communications and high-power fiber laser applications. Welcome to visit our booth then.