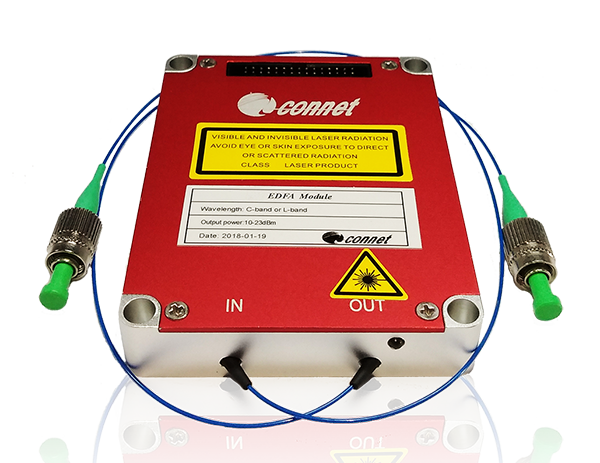 C-Band Low Noise PreAmp EDFA Module
Product Description:
The MARS series C-band PreAmp EDFA module of Connet is the high-gain, low-noise fiber preamplifier (Pre-EDFA). This amplifier is used to pre-amplify the small signal (down to -40dBm), improve the receiver sensitivity and extend the transmission distance of the signal. This series of amplifiers employ the optimized Erbium-doped fiber optical path structure internally. The high-performance small signal amplification output can be achieved with the ASE being suppressed to an extreme level.
Connet MARS series C-band PreAmp EDFA module is a highly reliable, compact amplifier providing excellent optical performance. It can be customized for single channel or multi-channel pre-amplification. The typical gain of this amplifier is 30dB, 40dB and 50dB. The maximum gain can be up to 50dB.
Applications:
● Metro network
● Optical access network
● Fiber optic communication
● Scientific research
Features:
● Mini size, compact structure
● Low noise, excellent gain
● High stability, high reliability
● Gain flattened
● Tunable output power
Specifications:
Parameter

Unit

Specification

Min

Typ.

Max

Part no.

MFAS-ER-C-M-PA

Operating wavelength

nm

1528

1550

1560

Input power

dBm

-45

-

-10

Output power

dBm

-

10

-

Minimum gain

dB

30

-

50

Noise figure

dB

-

4

4.5

Input/output isolation

dB

30

35

-

Output power tunable range

%

0

-

100

Input/output monitor

Optional

Control mode

ACC or APC

Power supply

VDC

5

Power consumption

W

-

-

5

Operating temperature

℃

-35

-

+65

Storage temperature

℃

-40

-

+85

Electrical Interface

DB30

Input/output fiber type

SMF-28e

Input/output fiber length

m

>0.5

Optical connector

FC/APC (other options available)

Dimension

mm

90(L)x70(W)x15(H)
Spectrum: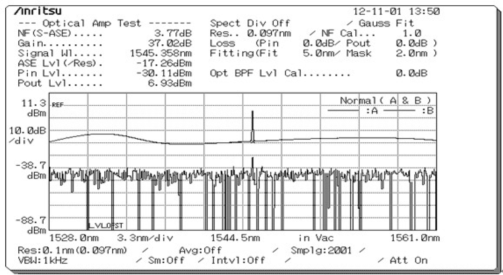 Ordering Information:
· MFAS-ER-C-M-<PW>-PA
· C: Operating wavelength in nm
· M: M-Module
· PW: Output power in dBm, e.g.: 7-5mW, 10-10mW
download
Related Products