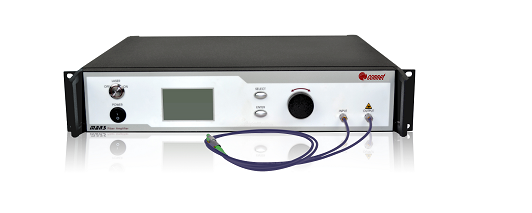 C-Band PM Optical Fiber Amplifier
Product Description:
The MARS series C-band polarization maintaining fiber amplifier of Connet Laser adopts the integrated all-fiber structure design. The unique polarization control technology and the advanced polarization maintaining fiber splicing technology ensures that the amplifier can obtain high power and high extinction ratio linear polarization output.
MARS series polarization maintaining optical fiber amplifier is an integral Turn-Key system with the microprocessor inside for controlling. With a clear interface and easy control, the LCD on the front panel can give a real-time display of the operating state of the pump current and temperature. The LCD can also offer warning messages. Connet Laser also provides the module package to meet the requirements of different applications.
Features:
• High output power
• Low noise figure
• High PER output
• High stability, high reliability
• LCD display interface, operate simply
Applications:
• Non-linearity research
• Free-space communication
• Fiber sensing
• Coherent combination
• Research & development
Specifications:
Parameter
Unit
Specification
Part No.
MFAP-ER-C-20
MFAP-ER-C-23
MFAP-ER-C-30
Operating Wavelength
nm
1530~1561
Input Power
dBm
-3~+10
Output Power @0dBm Input Power1
dBm
20
23
30
Noise Figure @0dBm Input Power
dB
<5.5
Polarization Extinction Ratio (PER)
dB
20
Input/Output Isolation
dB
30
Output Power Stability (8hours)2
%
±1
Input Power Monitoring
Yes
Output Power Monitoring
Yes
Output Power Tunable
Yes
Polarization
Linear Polarization
Output Fiber Type (PM)
PM1550
Output Fiber Length
m
>1
Optical Connectors
FC/APC (other options available)
Output Power Tunable Range
%
10~100
Operation Temperature
℃
0~+35
Storage Temperature
℃
-40~+85
Power Supply (Benchtop)
VAC
100~240
Dimensions


19" 2U
1. Output power is optional with the typical power of 50mW, 100mW and 200mW;
2. The output power stability is measured under 25℃, after 30 minutes' warm-up.
Ordering Information:
MFAP-ER-C-<P>-<PW>: PM
P: Package, B-Benchtop, M-Module
PW: Output power in dBm, Example: 20-100mW, 23-200mW.
download
Related Products