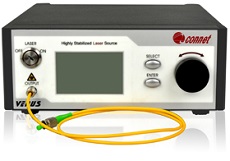 980nm High Stability Single-mode Pump Laser Source
Product Description:
The key components of the Connet VENUS series 980nm high-stability desktop single-mode pump laser source use one or two high-power single-mode pump lasers with FBG wavelength stabilization in the 980nm band. The typical operating wavelength is around 975nm. The stability of the output power is guaranteed by a combination of uniquely designed ATC and APC circuits, structural and thermal design. The newly designed front panel operator interface is simple and elegant, and the operation is very simple. Connet can also provide RS232 communication interface and corresponding control software according to user's requirements.
Connet VENUS series 980nm high-stability desktop single-mode pump laser source has adjustable output power. The output power is displayed on a high-definition LCD display. It is easy to operate, with high control precision. The output is a high quality singlemode or PM fiber with FC/APC connector. VENUS is plug and play, is ideal for applications in experimental research such as fiber amplifier pumping.
Connet VLSS-980-B series 980nm high stability desktop single-mode pump laser source is usually used in EDFA, EYDFA or Yetterbium-doped fiber amplifier pumping, etc. Due to the active ASE and other back-reflected light, it is very easy to lead to a failure. In order to reduce the risk of pump laser damage, Connet provides a targeted pump protection solution for users to choose.
Applications:
● High power and low noise EDFA
● Mode-locked fiber laser for 1.0um and 1.5um band
● Test and measurement
● Other lab applications
Features:
● Singlemode or PMF output
● High output power: up to1400mW
● FBG wavelength-locked pump diode
● ASE feedback protection
● Highly stable output
Specifications:
Parameter

Unit

Specification

Min

Typ.

Max

Part no.

VLSS-980-B

Output power1

mW

90

-

1400

Peak operating wavelength2

nm

970

974/976

985

Spectral width(FWHM)

nm

-

0.5

1

SMSR

dB

20

-

-

Output isolation3

dB

-

30

-

Stability of output power4

%

-

-

1

Output power tunable range

%

0

-

100

Output power tunable mode

Coarse / Fine

Output fiber type

SMF or PMF

Length of output fiber

m

> 1

Output fiber connector

FC/APC( other options available)

Operating voltage

VAC

100-240

Power consumption

W

10

Operating temperature

℃

0

-

+50

Storage temperature

℃

-40

-

+85

Dimension

mm

340(L)×240(W)×100(H)
· Output power on request, typical output power: 400mW, 600mW, etc.
· Operating center wavelength please specify.
· Isolation refers to the feedback of ASE.
· The output power stability is measured under 25℃, 30 minutes after warm-up.
Ordering information:
· VLSS-974/976-P-<PW>-<SP>
· P: Package, B- Benchtop , M-module
· PW: Output power in mW, 300-300mW, 500-500mW; 1400-1400mW
· SP: Feedback protection, 0-None, 1-Yes
Notes:
Connet provides different pump protection solutions according to different wavelength fiber lasers and amplifiers.
If you need, please contact us for more professional support.
download
Related Products