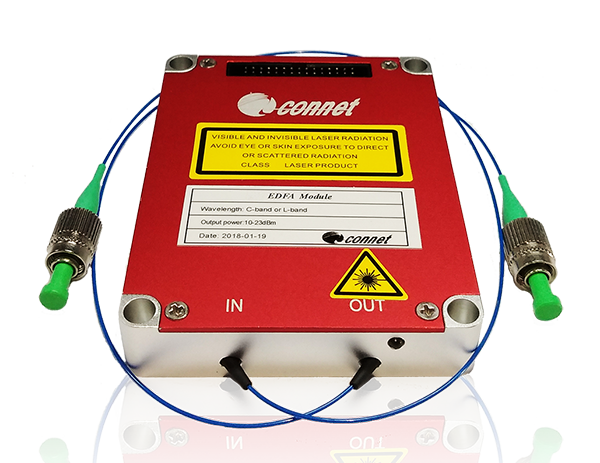 Ultra-low Noise High Gain Pulsed PreAmp EDFA
Product Description:
Connet MARS Series Ultra-low Noise High Gain Pulsed PreAmp Erbium-doped Fiber Amplifier (EDFA) uses a unique optical path design with the proprietary ultra-low noise Erbium-doped fiber, featuring with low noise figure and high gain, which can be used for effectively amplifying such weak signal as -50dBm. The comprehensive performance of this EDFA surpasses the similar products in the market.
The ultra-low noise high-gain Erbium-doped amplifier of Connet is suitable for pre-amplification of weak pulse signals, like the pulse signal generated by modulating a continuous seed laser. This EDFA can effectively suppress the ASE and obtain a better signal-to-noise ratio of the amplified signal while maintaining the high gain. It is an ideal fiber amplifier for weak optical signal acquisition that is widely used in coherent communication, heterodyne detection and Coherent Doppler LIDAR systems, etc.
Applications:
● Coherent Doppler LIDAR for Wind Sensing
● Coherent Communication
● Coherent Detection
● BOTDR/BOTDA Sensing System
● Other Scientific Research
Features:
● C-Band
● Low Noise: NF<4.0dB
● Pulse Operation
● Low ASE
● High Stability, High Reliability
Specifications:
Parameter

Unit

Specification

Min

Typ.

Max

Part no.

MFAS-ER-C-M-PA-PL

Operation mode

Pulse

Operating wavelength

nm

1528

-

1560

Input average power

dBm

-50

-

-10

Small signal gain@-50dBm

dB

50

-

-

Small signal gain@-10dBm

dB

30

-

-

Noise figure (NF)

dB

-

3.5

4.0

Polarization dependence gain

dB

-

0.3

0.5

PMD

ps

-

-

0.3

Input isolation

dB

35

-

-

Output isolation

dB

35

-

-

Control mode

ACC

Power supply

VDC

5-12

Operating temperature

℃

-35

-

+65

Storage temperature

℃

-40

-

+85

Input fiber type

SMF-28e or PMF-1550

Input fiber length

m

>0.5

Input fiber connector

FC/APC

Output fiber type

SMF-28e or PMF-1550

Polarization Extinction Ratio (PER)

dB

23

-

-

Output fiber length

m

>0.5

Output fiber connector

FC/APC

Dimension

mm

90x70x15 or 150x125x20
Ordering Information:
· MFAS-ER-C-M-PA-PL Single-mode Ultra-low Noise High Gain Pulsed PreAmp EDFA
· MFAP-ER-C-M-PA-PL Polarization Maintaining Ultra-low Noise High Gain Pulsed PreAmp EDFA
download
Related Products