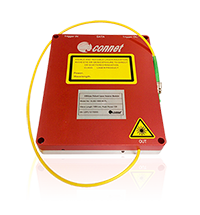 1064nm Picosecond Pulsed Fiber Laser
Product Description:
Connet 1064nm picosecond pulsed fiber laser adopts the all-fiber design and is an all polarization-maintaining fiber laser based on SESAM passive mode-locked technology. The stable linearly polarized picosecond laser output can be achieved through the optimized optical path, which is highly reliable and maintenance-free. This laser can be used for scientific research or as the seed laser for the high power industrial grade ultrafast pulsed fiber laser.
Features:
● SAM passive mode-locked all PM fiber design
● Narrow spectral width<1nm
● Robust and compact
● 10~50ps pulse width, MHz repetition rate
● Low amplitude noise
● Maintenance-free operation
Applications:
● Seed laser for fiber laser or amplifier
● Time precision detection
● Test and measurement
● R&D
● LiDAR
Specifications:
Parameter

Unit

Specification

Min

Typ.

Max

Part no.

VFLP-1064-M-ps

VFLP-1064-M-ps

Center wavelength

nm

1064

Pulse width

ps

5

10

50

Repetition rate

MHz

20

60

Spectral width

nm

1

Output power

mW

>2

>100

Beam quality

M2

<1.1

Polarization

Linear Polarization

Polarization Extinction Ratio (PER)

dB

20

-

-

Output power stability

%

-

±1

±2

Pulse peak stability

%

-

-

5

Output isolation

dB

35

-

-

Operating temperature

℃

+10

-

+50

Storage temperature

℃

-40

-

+85

Supply voltage

VDC

5.5-12

Output fiber type

PM980-XP

PM980-XP

Output fiber length

m

> 0.5

Output fiber connector

FC/APC (other options available)

Dimension

mm

150(L)x125(W)x25(H)
Ordering
I
nformation:
· VFLP-1064-M-ps-FA: 1064nm Picosecond Mode-locking Fiber Laser (Seed Laser)
· VFLP-1064-M-ps-PA-FA: 1064nm Picosecond Mode-locking Fiber Laser (Seed Laser + Pre-amplifier)
· M: Module
download
Related Products